Recently I had the opportunity to dine at the incredible
Lever House Restaurant.
 The meal was multiple stars, but that's for another blog.  I may discuss the somewhat small but utterly groovy interior of the restaurant in a later post, but for now, I'd like to talk about Lever House, itself.  [Photos are credited where possible; none of them are mine.]
--Photo David Shankbone (unfortunately, I didn't have my camera with me)
While this post will do more or less what Architextures is meant to be, Lever House is way more prominent of a structure than I normally would discuss.  Nonetheless, it is one of my favorite buildings in New York, so it seems a good way to commemorate the start of this blog.

Lever House is by Gordon Bunshaft of
Skidmore, Owings & Merrill (SOM)
and was completed in 1952.  It was the first steel and glass curtain wall in New York history, thereby paving the way for practically the whole of corporate architecture in the city until Philip Johnson's AT&T (Sony) Building in 1984.

I've always loved the unbelievable elegance of Lever House's geometry.  So pure, so simple.  From across Park Avenue, it reads as two great slabs, one horizontal, one vertical.  The horizontal plinth seems to hover a story above ground in magical Modernist tradition.  The vertical one seems to hover weightlessly above that, celebrating the strength of 20th-Century building techniques, and formally separating the two slabs.
I can't tell you how happy I am that it got such an amazing restoration.  It looks glorious.  Standing in the middle of its courtyard, I couldn't help but feel how truly inspiringly
new
 this all must have seemed in 1952.  I mean, plenty of people were familiar with the International Style slowly wafting its way across the Atlantic, but this building was pure
New York
 at one of its finest moments.  It's also pleasing to know that Isamu Noguchi's garden, part of the original plan, has finally been realized, especially since so much of his great work went unbuilt.  
Noguchi,
of course, is worthy of a post all to himself.
The other thing that struck me in the courtyard is how kind of intimate--even small--the entrance feels.  Part of this may be due to the Damien Hirst sculpture,
Virgin Mother,
standing about 25-feet tall in the middle of it.  She looks like a normal bronze of a pregnant woman on the one side, and on the other, her skin has been pulled back to reveal the fetus and her mammary gland.  It's a little bit gory, but it almost comes off like a plastic science classroom model, oddly very cold and clinical, like much of his work.
The most glorious thing about the placement of this piece in the courtyard is how confined the space is.  It means you can never really get too far away from the sculpture, and you're forced to look at her pretty much straight up in the air.  As a result, you're forced to see her height in the direct context of the Lever House tower and all the other monolithic buildings surrounding it.  They form an unavoidable backdrop for the sculpture.

There was a woman smoking outside, so I said to her "it's really amazing, but I'm not sure I'd want to see this every day on my way to and from work; it's a little gory."  She laughed, and I said I'd heard there were some other Hirst pieces at the building.  Out of the corner of my eye, I'd failed to notice that it was inside the lobby of the building, right behind her.  Because they sort of look like display cases, my brain didn't quite register that it wasn't a store, and I was expecting the work to all be outdoors.
Originally, that glassy front box of the lobby where the installation is held a test kitchen to demonstrate the wonders of Lever Soap products, evidently.  The doorman dude said the owner (of the building? I assume he meant Aby Rosen or Michael Fuchs?) is a huge fan of Hirst and so will likely continue to show works of his.

The installation piece inside--
School: The Archeology of Lost Desires, Comprehending Infinity, and The Search for Knowledge
(LOL)--was extremely complex, so perhaps I'll save that for a separate post.  In any case, it was brilliant...if maybe not particularly appetizing to be looking at right before I went to dinner.
I wish I could see more of the interiors, although the lobby is sleek and gorgeous, crystalline, almost.  Some of the original interiors were by
Raymond Loewy,
another person who deserves his own post.
It's hard to even fathom the profound influence this one firm, SOM, has had on the face of this city.  Before I moved to Queens, I lived right around the corner from their Worldwide Plaza.
I think these are the kind of buildings most people pass by without even noticing them, but I used to hang out my window and watch lightning hit the taller tower in violent summer thunderstorms.  It just felt so close, like I could almost feel the electricity in the air.  The shorter residential tower to the west is scaled so beautifully for the neighborhood at ground level.  It almost reads like individual little four-story row-houses, each with its own separate entrance up a small flight of stairs.  Unfortunately, they're mostly used for like private doctor's offices and so on and end up feeling almost abandoned, which I think is a real waste.   Jane Jacobs would have loved the plaza between the towers.  
It's in constant use, filled with people in summer, because of a little cafe, a health club, and a couple other businesses.  I think a division of Sony takes up most of the taller, eastern tower.

Two years after Lever House, Bunshaft did one of the greatest buildings on Fifth Avenue, the Manufacturers Trust Company Building.
What's most incredible about this one--aside from the mezzanine level floating weightlessly inside the glass box, teasing the outer skin but never touching it--is that banks are supposed to be solid like Fort Knox, secure, heavy, and protected.  This bank is totally open.  And where is the vault?  Way in the back?  Down in the basement?  No.  It's RIGHT up in front.  It looks like you can barely even open the vault door without hitting the front window.  I assume when the vault door is open, you can actually count the money as you walk past it.  Amazing.
In 1960 he was head of SOM for the completion of the Union Carbide Building:
And the Pepsi-Co Building:
--Photos Annemarie van Roessel
...the top floor of which being where Joan Crawford allegedly told the other board members:   "Don't F*CK with me, FELLAS.  This ain't my first time at the rodeo!"

Bunshaft did the
New York Public Library for the Performing Arts
(1965)
at
Lincoln Center
(where I'm also a tour guide, by the way).  This work is mostly about the interiors and the layout, because it does kind of get swallowed up by Eero Saarinen's Vivian Beaumont Theater.  The Amsterdam Avenue entrance is sort of dramatically Brutalist, though.  He and Saarinen must have worked fairly closely together--collaborated even--because Bunshaft's library crawls up the side of the theater and wraps around its fly-space on top like a ring around a finger.
Then in 1967 he helped create the Marine Midland Bank Building:
A delicious exploration of a Minimalism which I'm afraid loses some of its formal power today by having been copied so relentlessly.  And another Noguchi piece for the front:
The Grace Building was completed in 1972,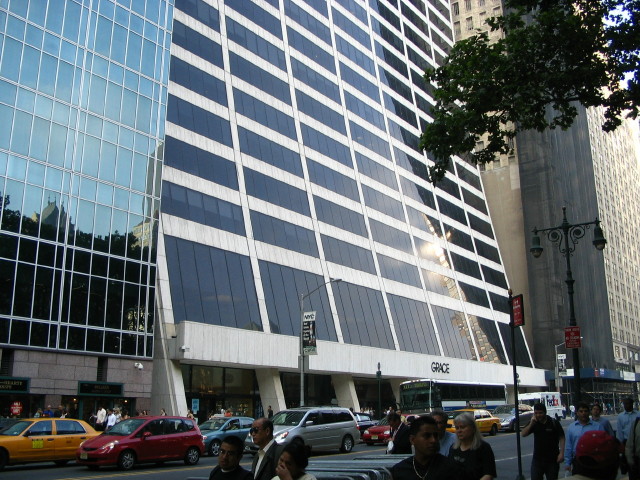 ...and looks suspiciously similar in profile to their 9 West 57th Street (
Solow Building,
1974):
I actually think 9W57th is the more successful of the two.  It's much more elegant.  Both are so distinctive, though, the types of buildings people notice and remember despite the fact that they're not shouting at you.